26 Aug

Preparation Via Virtual Rehersal

Graduation day is a hectic time for many. To prepare their soon-to-be graduates for the big day, colleges and universities across the country have traditionally hosted graduation rehearsals, which most often take place on campus. While useful to those in attendance, several obstacles (e.g., the requirement that everyone meet in one location) prevent this type of rehearsal from delivering its intended value to students and families come the day of the event. To work around these issues, many institutions have turned to virtual rehearsals in preparing students for commencement.

The virtual rehearsal is a designated time at which graduates, parents, and anyone else interested in the ceremony may go online and view a webcast/webinar presentation hosted by the institution. At its core, this typically consists of a school representative presenting an online document (e.g., PowerPoint, Google Slides) and discussing it. Live viewers have the opportunity to submit questions via email or another message board, and the presenter may address these inquiries in real time. The webinar materials are then hosted at that link site so those who could not attend may then go online and either replay a video or download a PDF attachment.

Why a Webinar

In the days leading up to commencement, graduating students are bound to get questions from parents, family, and friends attending the ceremony. These FAQs are most often aimed at locating the following:
Handicap parking, entrances, handicap-accessible restrooms

Family restrooms or restrooms with changing tables, nursing stalls

First aid stations, AED storage
To address these questions, schools might include maps and diagrams throughout the presentation. Other useful features include:
Parking maps

Seating charts, indicating where students of a particular school will be seated.

City map of nearest hospital or airport
The virtual rehearsal, when presented as a webinar, gives schools the opportunity to expand the reach and usefulness of their communications by overcoming the limitations of a physical meeting and enabling family members to participate in the presentation. It is possible that the number of non-graduates will exceed that of graduates viewing the webinar. This is especially common among schools that use social media to drive the rehearsal and invite non-graduates to participate.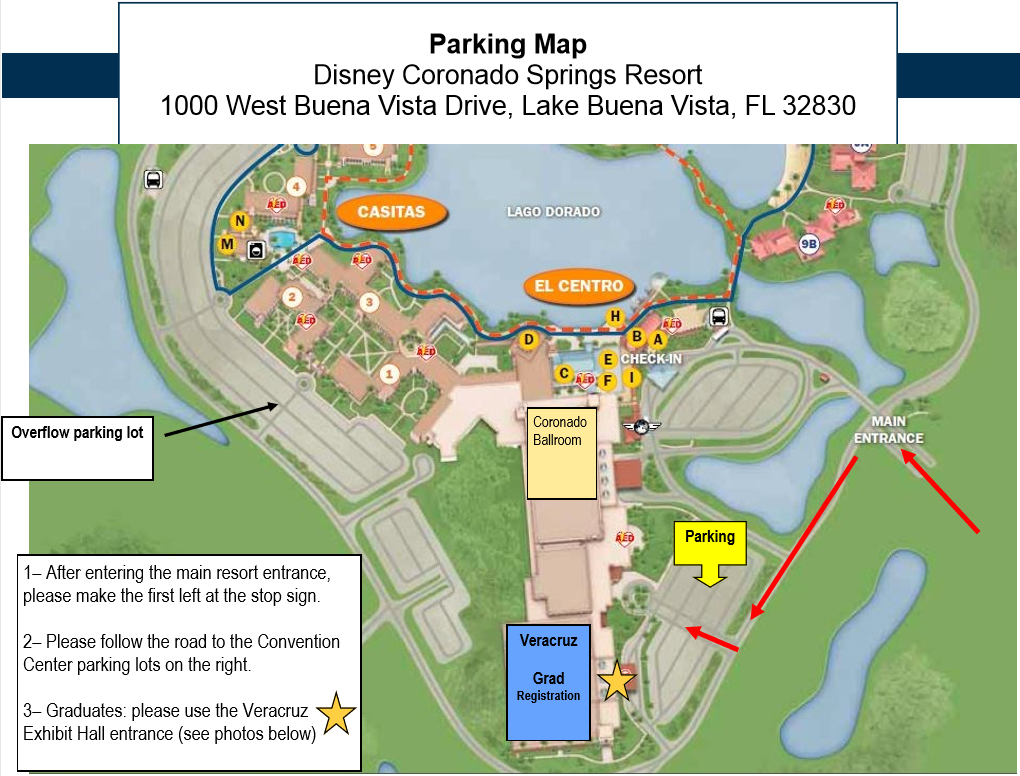 Click on the link below for the full PDF attachment:
https://drive.google.com/open?id=1eZqgi0yS9foS6mZUGFgTslRv5DdN4I_i
Increasing Accessibility 
Another key benefit of the virtual rehearsal is that the information can be easily accessed after the live presentation. In the past, we have seen schools publish multi-page booklets with this information. While certainly a step in the right direction, a pamphlet like this is only useful when on hand. By presenting and saving a webcast online, the institution creates a live reference guide that can be accessed from anyone's cell phone as they approach the building. Cell phone use is so common now that the benefit of this approach is more widely realized among families than ever before.
For everything it can accomplish, the virtual rehearsal is a low-maintenance tool. Once compiled, the presentation may not need to be updated for several years. When the time comes, slides or pages in the document may easily be revised, replaced, or removed altogether. Many schools come up with a template that is used to produce multiple presentations in cases where two ceremonies may differ considerably (e.g., alternative venue, structure, size).
The Role of Social Media
In order to truly broaden the scope of the audience and make the virtual rehearsal a useful tool for everyone, the school should invite family members and other non-graduates to participate in the webinar. Many institutions point to social media as being their primary tool for successfully driving webinar engagement. Three or four weeks ahead of time, these schools will typically post/tweet about the virtual rehearsal and provide a link to the webinar. This will be repeated two weeks later, and multiple times in the days leading up to the virtual rehearsal.
Location, Location, Location…
One of the most important topics to cover during a graduation rehearsal is the venue. In cases where the venue might be unfamiliar to some students, this information is especially pertinent. Many school hold their commencement ceremonies at an athletic complex facility, which may still be unfamiliar to many students. This may be particularly true for larger institutions. At the University of Indiana, for example, the athletic facility is located 1.5 miles from campus. The main campus and the athletic complex each span hundred of acres. International students, or anyone attending school solely for academics might go their entire college career without having attended any functions at that athletic facility. Therefore, it is a new place for them, and they need to learn about it just as much as anybody. To compound matters, the athletic facility is very often the site of the traditional graduation rehearsal itself, which may lend itself to the difficulty of having everyone meet there in the first place.